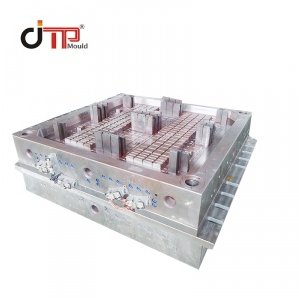 Why should you choose the plastic pallet over a wood pallet? You will find a convincing answer in this article.
Let's get started!
1.Plastic Pallets are Lightweight Product Handling Equipment
Weight is the main problem during the transportation, loading or unloading of products in the supply chain. As you want to reduce the extra cost of weight, it is important to avoid any items that may add extra kilos.
Plastic pallets have a significant weight advantage over wood pallets or those made from other materials.
1) Save on shipping costs, especially where the freight forwarder charges per unit weight.
2) Handling product will be easy since you don't need sophisticated weight lifting equipment that will be costly.
3) Quite a number of exporters and importers who use plastic pallets do save a reasonable amount of money.
4) In most cases, you'll find that plastic pallets with the same size and design as wood pallets are approximately 27% to 34% lighter.
2. Plastic Pallets are Highly Durable with Long Service Lifespan
1) Plastic pallets are more durable than wood pallets.
Wood pallets have a lifespan of 3 to 5 years, plastic pallets that have a life span of up to 10 years.
2) They can withstand shock and handle products safely.
Under normal circumstances, plastic pallets will neither break nor splinter.
3. Plastic Pallets Save a lot of Space
In any form of shipping, both weight and space are key variables that determine cost.
1) First, you need to choose nestable plastic pallets. When the pallets are empty, you can save more than a third of the available space.
2) Plastic pallets have a thin cross section structure when you compare them with wood pallets.
3) Even with the thin structure, plastic pallets can still hold more weight.
The space saving feature is one of the fundamental plastic pallet advantages that will help you save a lot of money.
4. Plastic Pallets are Environmentally Friendly
The use of plastic trays reduces any activity that may adversely affect the environment.
1) Failure to control fumigation of wood pallets properly may cause environmental pollution.
2) By adopting plastic pallets, you'll be saving trees.
3) Plastic pallets are 100% recyclable. If something happens to the pallet, you can recycle it to make new ones. Recycled plastic pallets are more affordable compared to those made from 100% virgin PP or HDPE plastic materials.
So that there are quite a number of plastic pallet advantages as far as saving the environment is concerned.
Of course, this is attributed to the choice of material and manufacturing process.
Plastic pallet mould is one of manufacturing process, is also one of our plastic injection moulds. It includes single and double side pallet mould, and so on. JTP Mould is a professional plastic pallet mould manufacturer, for plastic injection molded pallets, we are your best choice.